Adrian Meronk has said he was "shocked, sad and angry" not to be named as one of six wildcard picks by Europe captain Luke Donald for the Ryder Cup.
The Pole, who defends his Irish Open title this week, won two other DP World Tour events over the past 14 months.
Donald picked Ireland's Shane Lowry, despite his recent struggles, Tommy Fleetwood, Nicolai Hojgaard, Justin Rose, Ludvig Aberg and Sepp Straka.
"It's been an emotional time," said 30-year-old Meronk.
"Obviously it's a hard one to swallow, I thought I'd done enough to be on that team but it is what it is."
"I wish them good luck and I will just focus on my game and move forward."
The Ryder Cup against the United States takes place from 29 September to 1 October at the Marco Simone Golf and Country Club, near Rome.
'Suddenly I realised it's not going to happen'
Meronk, who won the Italian Open in May at the Ryder Cup venue, finished 13th in last week's final qualifying event in Switzerland and said he was expecting good news when he received the call from Donald while on a train to Geneva.
"They told me they were going to call regardless and I was in quite a good mood," he said.
"I was on the train coming from Switzerland, I'd had a nice finish and [then] I was in shock.
"I heard from him (Donald) that it was tough for him as well but when he said I'm not going I kind of stopped listening.
"He was saying that someone has to stay home, it was close and stuff like that. I wouldn't want to be in his position but it was a big shock.
"On Monday, the first half of the day was just sadness and disbelief and then anger because the last year-and-a-half I spent a lot of time thinking about this and that was my goal.
"Suddenly I was just realising it's not going to happen this year."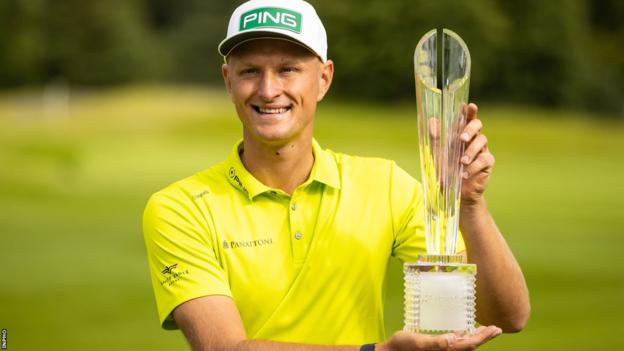 The Pole added that he has received a lot of support from fellow players since Monday's announcement.
"I talked to my parents, my psychologist, my coach and they have all been quite supportive and a lot of players on tour, coaches and caddies have all been very supportive, texting me, calling me," he said.
Asked if fellow players had been saying they were surprised by his omission, Meronk added: "Yeah, quite a few. That's very encouraging and I appreciate all that support."
Meronk revealed that some Polish fans had already bought tickets for Rome as they were confident he would be on the team, and admitted it would be hard to focus on this week's title defence at the K Club.
"It's not easy," added the world number 51, who will partner Rory McIlroy and American Billy Horschel for the first two rounds.
"I haven't experienced that before so I'm fighting with emotions inside of me.
"I want to focus on the week, it's a great venue, a great tournament but it's still somewhere in the back of my mind what happened a couple of days ago.
"But I hope I will be ready on the first tee and I will give my best as I always do."