TaylorMade Golf has announced the launch of the all-new P·790 irons, with each club individually designed to create a blend of distance, forgiveness and accuracy.

Boasting precision weight optimisation, tungsten weighting and SpeedFoam Air, every individual iron has a unique internal structure designed to maximise performance.
Matt Bovee, TaylorMade's Director of Irons Product Creation, said: "P·790 is a collision of art and engineering. The allure lies not only in the clean design and visual appeal, but also in the high-performance machine that lives within. It's the total package, an ideal blend of external elegance and internal power."

FLTD CG FOR CONSISTENT PERFORMANCE
For the first time, P·790 features FLTD CG, a strategic design that positions the centre of gravity lowest in long irons and progressively shifts it higher throughout the set. This intuitive design concept allows for easier launch and more forgiveness in the long irons, while the shorter, weaker lofted irons are designed to control ball flight and optimize spin.
In the long irons (3-4), the centre of gravity has been shifted almost a millimetre lower compared to previous generations, while the centre of gravity starts to creep up as you go through the set. Overall, there is a linear trend from low-to-high giving the golfer spin exactly where they need it to promote accuracy, control and consistency from top to bottom.
The internal structure of every P·790 iron has been uniquely designed with AI-driven mass optimisation, ensuring every gramme of weight was strategically placed to deliver the best possible result with that specific iron.
The most notable visual difference from one iron to the next is the sound stabilization bar, which sits above the tungsten weight framework. Located in the three through seven irons, each bar is uniquely shaped and positioned to individually optimize feel and performance by controlling the amount of unsupported space between the internal structure and the topline of the club. The design minimizes unwanted vibrations at impact and ensures that every iron creates a premium forged feel with optimal CG placement.
In the long irons, the sound stabilization bar moves more toward the centre of the club while the tungsten weight frame is positioned nearer to the sole. Mass distribution is specifically arranged to lower the centre of gravity, making it easier to launch the golf ball high with low-lofted irons.
Compared to prior generations of P·790 irons, a larger face opening gave engineers more space to push tungsten weights farther towards the toe. In conjunction with a thick-thin back wall that creates additional mass savings, this new construction allows for a shift in mass that's designed to produce more consistency throughout the set.
Moving weight lower and towards the perimeter of the club further allowed engineers to design for improved forgiveness and control CG positioning. Within the scoring clubs (8-PW), CG progressively shifts higher for more control, better spin properties and enhanced accuracy.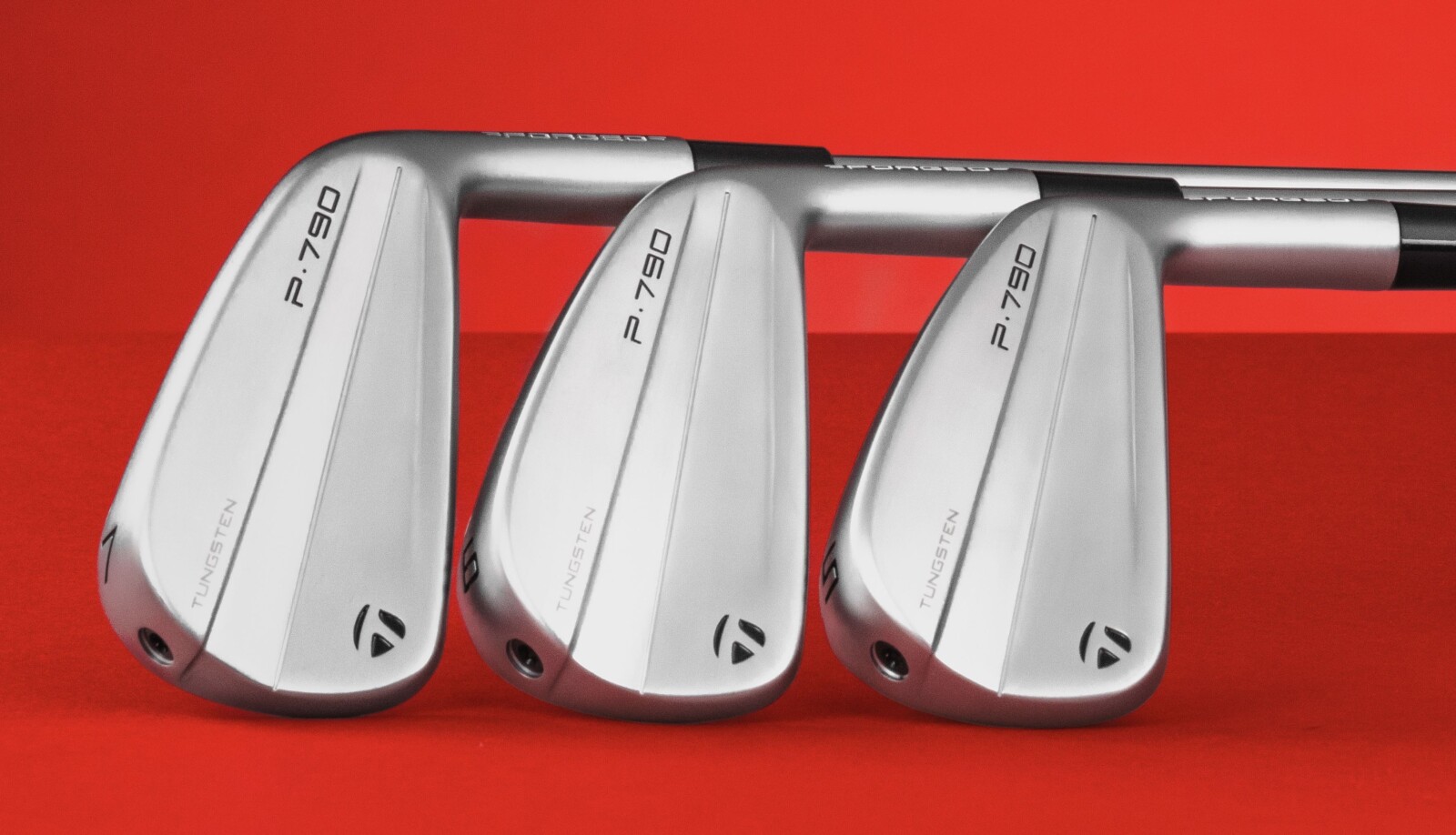 PROVEN P·790 TECHNOLOGIES
The 2023 P·790 irons still feature SpeedFoam Air, which is 69 percent less dense than the original SpeedFoam. A forged 4140 high speed face creates a hollow body construction that houses the internal technology and sustains a premium feel.
A staple of TaylorMade designs, the Thru-Slot Speed Pocket works in unison with unique internals constructions to expand the sweet spot while also protecting ball speeds on low face strikes. P·790 irons include machined grooves for precision craftsmanship, a characteristic that is paramount throughout the P·Series line up. P·790 features a pearl satin scratch finish and tour satin stripe that runs down the middle of the club, with a sharp tonality on the polishing.
SPECIFICATIONS, PRICING AND AVAILABILITY
P·790 irons are offered in 3-PW, AW (RH/LH) with True Temper Dynamic Gold 105 (S) and Dynamic Gold 95 (R) steel shafts and Mitsubishi MMT 75S, 65R and 55A graphite shafts. They are fitted with Golf Pride's Z Grip +2. Custom ordering will also be available with various shaft and grip options.
The P·790 irons are available for pre-order from August 8 at retail and on www.taylormadegolf.com, with sets arriving in pro shops and retail outlets from September 1. RRP: £172 per iron for steel, £200 for graphite.