Our lucky members experienced the Old Course in all it's glory as club enters final preparations for AIG Women's Open.
The highly anticipated Golf News Linksnet Network Day at Walton Heath did not disappoint, as our excited members got to play one of the UK's finest courses in near tournament conditions. In little over a month, the club will host the prestigious AIG Women's Open and with the stands now built, our Linksnet day really did have the feel of a full scale tournament!
Guests began on the long par 3 first, a daunting starting hole, and one which isn't used in the tournament due to it being the only hole on side of a very busy road. Once those nerves were out the way however there was some great golf played – no surprise though given the calibre of players on show.
It was however to be a day to remember for the chaps from Yorkshire! All but 3 prizes went to Yorkshiremen, with Neil McRae from Waterton Park GC winning a bottle of Hayman's Gin for Nearest the Pin in Two. Nearest the Pin went to Mark Attwell from Marsden Park GC, winning a bottle of Merser Rum.
The Team Stableford went to the Yorkshire team of Stuart Nice, Rob Cooper, Glyn Andrews and Neil McRae with an excellent 88 points. Each won a fabulous Castore Polo Shirt.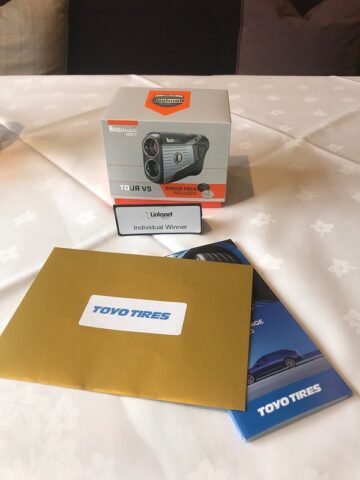 In the individual competition, provulo's Simon Hudson from Burhill GC took third spot with 37 points winning a pair of Skechers shoes. The runner up was brand new Gold member Steve May with an excellent 38 points winning a £250 voucher from Stewart Golf. But it was good old Yorkshire and Stuart Nice from Waterton Park who took the honours with 40 points to win a Bushnell Tour 5 Laser and a pair of tickets to the AIG Women's Open courtesy of Toyo Tires who are an official Patron for the AIG Women's Open.
For a full breakdown of results click here
For all the photos click here
Thank you to all our sponsors for helping us provide a spectacular day. Spaces currently remain for the final two Network Days in August and September.