-10
R Fowler (US);
-9
W Clark (US);
-8
R McIlroy (NI), X Schauffele (US);
-7
H English (US);
-6
MW Lee (Aus), D Johnson (US);
-5
S Scheffler (US), S Bennett (US);
-4
C Smith (Aus)
Selected: -1
V Hovland (Nor), B DeChambeau (US);
Level
B Koepka (US), C Morikawa (US);
+1
M Fitzpatrick (Eng), S Garcia (Spa);
+2
J Rahm (Spa), T Fleetwood (Eng)
Full leaderboard
Rory McIlroy is using his 2014 Open Championship win as inspiration as he looks to end his nine-year major drought at the US Open this weekend.
The Northern Irishman is just two shots off Rickie Fowler's lead in Los Angeles after using his performance at Hoylake as a blueprint to "play smart".
McIlroy has won just about everything in the game since 2014 but has been unable to add to his four majors.
"No one wants me to win another major more than I do," said McIlroy.
The 34-year-old followed a first-round 65 with a 67 on Friday at Los Angeles Country Club to sit in a tie for third on eight under, alongside Xander Schauffele.
Blessed with huge length off the tee, McIlroy has placed more of an emphasis on accuracy rather than distance so far – something he picked up from watching his 2014 victory at Royal Liverpool in Hoylake on YouTube.
"I went on to YouTube a few weeks ago and I actually couldn't believe how many irons and three-woods I was hitting off the tee," said McIlroy.
"It set something off in my mind about, you know how to do this. You know how to play smart. You don't have to hit driver all the time. I keep saying I've got more weapons in my arsenal I feel now than I did back then, so I may as well use them."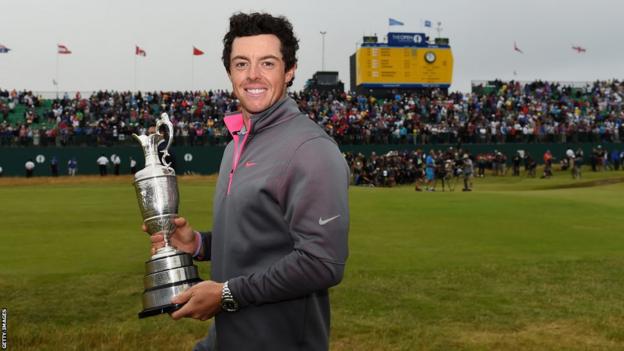 Weekend will be usual US Open grind
With Fowler and Xander Schauffele shooting record scores, three holes-in-one and some low scoring generally not seen at the US Open, Los Angeles Country Club has been labelled as too easy by some critics.
McIlroy, though, expects conditions to become a lot tougher over the weekend and more like the usual US Open test of both skill and mentality.
"It's got the potential to get a little firmer and faster over the next couple days, which will make the scores go up a little bit," he said.
"And yes, the course has played maybe a little easier than everyone thought it would, but I wouldn't be surprised on Saturday/Sunday to see it bite back, which I feel is what a US Open is all about.
"It should be tough. It should be just as much of a mental grind out there as a physical one."
'No one wants me to win a major more than me'
McIlroy was the dominant star in golf when he won both The Open and US PGA Championship in 2014 to double his major haul.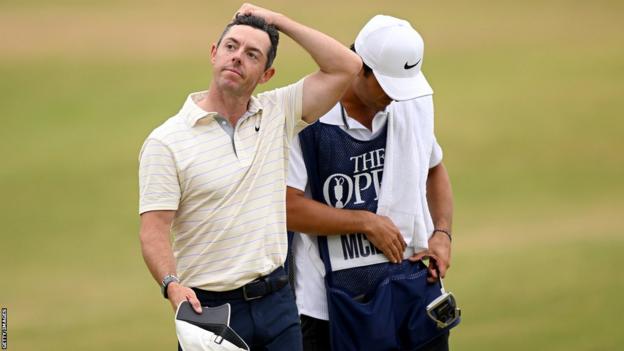 Few could have imagined he would still be waiting, almost a decade later, for major number five, but even though he's had some near misses the desire to win remains there.
"I started thinking about winning this thing when I came here on Monday. I've already done that," added the 2011 US Open victor.
"No one wants me to win another major more than I do. The desire is obviously there."
McIlroy's last near miss came at St Andrews' Old Course in the 2022 Open Championship when he was beaten by a charging Cameron Smith – but he vowed to always keep coming back for more.
"I've been trying and I've come close over the past nine years," he said. "I feel like I've showed a lot of resilience in my career, a lot of ups and downs, and I keep coming back.
"And whether that means that I get rewarded or I get punched in the gut or whatever it is, I'll always keep coming back."