Callaway's exciting new footwear range for men and women is available in-store now, headlined by the Tour Series and infused with premium levels of technology, comfort, performance and design.
TOUR SERIES
Tour Series is showcased by the top-of-the-line Lux, an avant-garde, sleek new style that combines, soft premium full grain leather uppers and Cabretta glove leather linings with the benefits of an advanced Crush-Foam energy return midsole, Ortholite moulded footbed, and a TPU hybrid spikeless outsole.
The Mav X (pictured above) is also an important new addition to the Tour Series line, an ultra-technical, lightweight TPU Force-flex cleated shoe with a premium microfibre upper offering extra structural support during the golf swing, and a sleek toe profile. Available in three colours (white, black and navy), Mav X provides additional comfort thanks to contour moulded heel fit and forefoot reinforcements, plus a shock-absorbing Crush-Foam midsole, ensuring no more tired feet. RRP £189.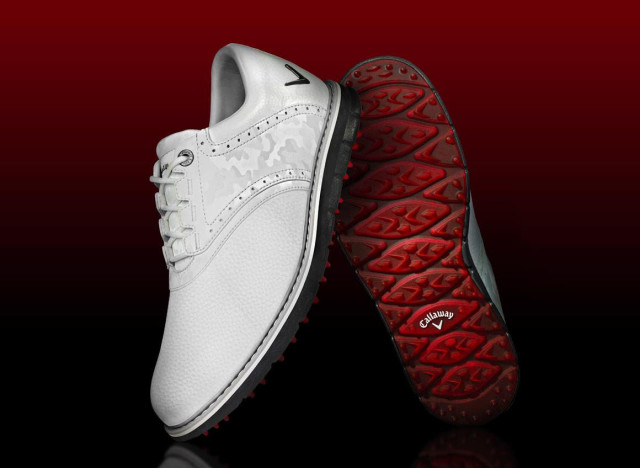 Completing Tour Series is Adapt, featuring a class-leading, new VERA-TRAX system with both TPU and rubber surface lugs on the sole, to ensure the shoes perform on both hard and soft surfaces.
The softest full-grain performance leather uppers, for a sumptuous look and feel, and Crush-Foam shock absorption, ensure Adapt (available in white/grey, black/white and white/navy) is a technology-rich choice for the active male golfer.
NITRO SERIES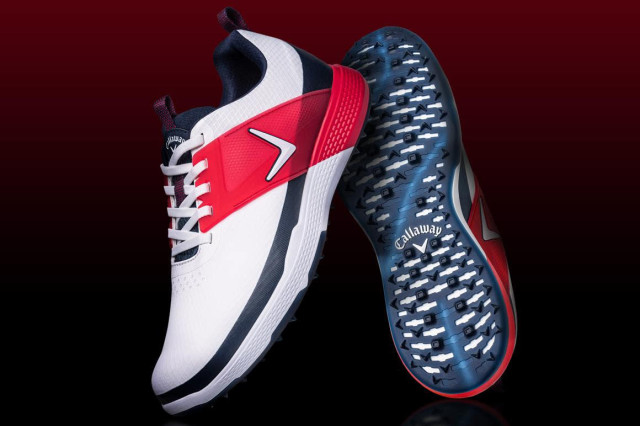 Built for comfort without any performance loss, the Nitro Blaze and Nitro Pro models are the first shoes in the world to feature Callaway's new Crush-Foam Technology.
Nitro Blaze – Premium modern comfort, super-soft micro-coated mesh uppers with Ortholite and Crush-Foam midsole energy return technologies. Multi-Terra TPU spikeless outsole and TPU saddle structure.
Nitro Pro – The new benchmark in super-lightweight waterproofing, with industry-leading comfort and traction, thanks to a Multi-Terra TPU spikeless sole and Crush-Foam midsole. Lightweight welded construction removes unnecessary friction points.
CHEV SERIES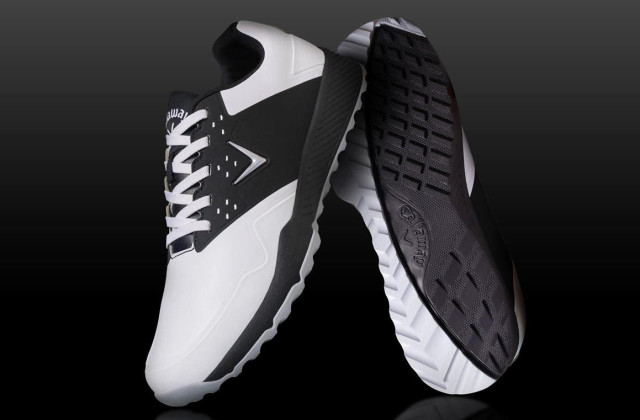 Lightweight and waterproof core product with out-of-the-box comfort. Line includes the new retro-inspired shoe, 'The 82', celebrating 40 years of Callaway heritage.
The 82 – Stunning new shoe in three colour options with athletic styling and out-of-the-box instant comfort. Perfectly at home on or off the golf course, embracing the styling street vibe of 1982. Featuring an all-new Opti-Soft foam midsole.
Chev LS – A strong focus on value, comfort and performance, thanks to soft leather upper, multi-directional Softspikes PINS system Big Bertha Power Cleats, and Opti-Soft foam midsole. Four colour options.
Chev Ace – Super sporty good looks and guaranteed waterproof comfort. Welded, no-sew seamless upper technology ensures waterproofing from the outside in. Opti-Vent mesh liner for breathability and heat management, and multi-directional rubber sole.
Chev Ace Aero – Perfect for summer golf, lightweight and supremely breathable. Mesh no-sew upper features a welded storm guard to protect against early morning dew. Opti-Vent mesh liner for breathability and heat management, and multi-directional rubber sole.
SKY SERIES (Ladies)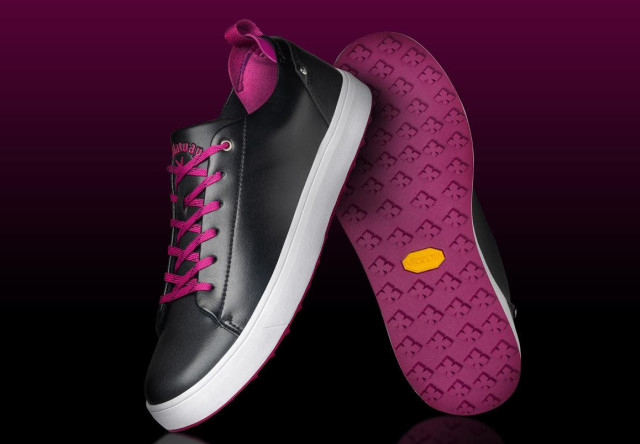 New for 2023, the Lady Laguna and the Vista. The Sky Series is built on a combination of ultra-lightweight components and performance features.
Lady Laguna – Full grain leather uppered shoe with a premium on style and comfort, and headlining a new Vibram advanced rubber compound spikeless traction sole. Crush-Foam footbed provides shock absorption and energy return.
Aurora – Fully waterproof and striking design blending high-fashion trends with retro, athletic styling. Super-soft microfibre upper and Opti-Soft foam midsole for high shock absorption and premium support. Dynamic spikeless rubber outsole.
Aurora LT – A design for summer, offering lightweight breathability and retro, athletic looks, Opti-Soft foam midsole support. Dynamically designed rubber outsole for uphill/downhill traction for the serious golfer.
Vista – Athletic, waterproof and beautifully-styled. Spiked dura-rubber outsole featuring Softspikes Fast Twist Pivix dynamic cleats. Comfort enhanced by inclusion of Ortholite Comfort insole. Seamless fused microfibre upper to minimise weak points and maximise comfort.
Lafe Christopherson, Senior Director Footwear at Callaway, commented: "We've stepped it up again for 2023 with the long-anticipated launch of Tour Series. It's the culmination of two years' testing and development to bring the latest in performance, comfort and design to our top-level offering. At Callaway we do everything we need to do to out-perform the competition, and we think this is our best work yet."