The PGA Tour and DP World Tour have agreed to merge with Saudi Arabian-backed circuit LIV Golf in a deal that ends the acrimonious split in the game.
The surprise announcement comes after a year of unprecedented disruption in the men's game following the launch of LIV.
It means pending litigation between the tours will be halted and they will move forward as part of the same enterprise.
"This is a stunning development," said the BBC's golf correspondent Iain Carter.
"The PGA and DP World Tours were sworn enemies of the LIV circuit, which had poached some of their best players. They viewed the breakaway tour as an existential threat and entered into bitter and expensive legal action."
Making the announcement on Tuesday Jay Monahan, commissioner of the PGA Tour, golf's leading circuit, said: "This is a historic day for the game."
An agreement has been signed that will combine the PGA Tour and LIV's commercial operations and rights into a new, yet to be named for-profit company.
The agreement includes the DP World Tour, formerly known as the European Tour.
The emergence of the LIV circuit fractured men's professional golf over the last year, with several top players lured by its huge prize funds and no-cut events, which include a team format.
LIV Golf is backed by the Saudi Arabia Public Investment Fund (PIF), an entity controlled by the Saudi crown prince and which has been embroiled in anti-trust lawsuits with the PGA Tour over the last year.
"This is a momentous day – to partner in this new entity is energising and exciting," said DP World Tour chief executive Keith Pelley.
What will golf now look like?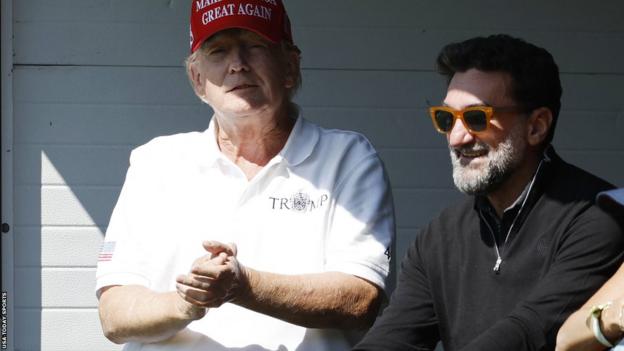 Monahan, his counterpart on the PGA Tour, said that a "comprehensive evaluation" of how best to integrate team golf will take place.
Yasir Al-Rumayyan is governor of the Saudi PIF, which is also the majority owner of Premier League club Newcastle United, who Al-Rumayyan serves as chairman. He will be chairman of the new commercial entity while Monahan will be chief executive.
Greg Norman has been a divisive figurehead as chief executive of LIV Golf but the former world number one was not mentioned during Tuesday's announcement.
"This transformational partnership recognises the immeasurable strength of the PGA Tour's history, legacy and pro-competitive model and combines with it the DP World Tour and LIV – including the team golf concept – to create an organisation that will benefit players, partners and fans," Monahan added.
"I applaud Yasir Al-Rumayyan for his vision and collaborative and forward-thinking approach that is not just a solution to the rift in our game, but also a commitment to taking it to new heights. This will engender a new era in global golf, for the better."
A joint press release added that all parties will work in the months to come to finalise terms of the agreement.
Al-Rumayyan said: "We are committed to unifying, promoting and growing the game of golf around the world and offering the highest-quality product to the many millions of long-time fans globally, while cultivating new fans.
"There is no question that the LIV model has been positively transformative for golf. We believe there are opportunities for the game to evolve while also maintaining its storied history and tradition."
The next event of LIV's second season is due to take place on 30 June at Valderrama, Spain.
How did we get here?
In late 2021, it was announced that LIV Golf, fronted by Norman, was to commit more than $200m (£145m) to 10 new Asian Tour events to be staged annually over the next decade.
In March 2022, LIV announced a $250m eight-event invitational series and then, in May 2022, Norman told BBC Sport that he had secured an extra £1.6bn of funding from the PIF to turn the series into a 14-event league by 2024.
The first event took place in June last year featuring star names including Dustin Johnson, Phil Mickelson and stalwarts of the European Ryder Cup team, including England's Ian Poulter and Lee Westwood.
In April, the DP World Tour won its legal battle against 12 LIV players who committed "serious breaches" of the Tour's code of behaviour by playing in LIV Golf events without its permission.
The subsequent increased fines and suspensions prompted Sergio Garcia, Poulter, Westwood and Henrik Stenson to resign their memberships and become ineligible for this year's Ryder Cup, which will take place from 29 September to 1 October.
Stenson had been selected as captain of the European team for the matches in Rome, but when he joined LIV he was sacked and replaced by Luke Donald.
Those players could now return to the fold, with the new enterprise pledging to establish a "fair and objective process" for players to re-apply for membership after the end of this season.
What has been the reaction?
The latest event in LIV's 2023 season was played at Donald Trump's course in Sterling, Virginia.
The former US president said on social media: "Great news from LIV Golf. A big, beautiful and glamorous deal for the wonderful world of golf. Congrats to all."
Six-time major winner Phil Mickelson, one of the first big names to switch from the PGA Tour to LIV, added: "Awesome day today."
American golfer Michael Kim said: "The hell is going on? Very curious how many people knew this deal was happening. About 5-7 people? Player run organisation right?"
'Not likely to sit easily with the PIF's critics' – analysis
BBC golf correspondent Iain Carter
This is a stunning development that has taken the golf world by complete surprise. The PGA and DP World Tours were sworn enemies of the LIV circuit, which had poached some of their best players.
They viewed Greg Norman's breakaway tour as an existential threat and entered into bitter and expensive legal action. But this was becoming increasingly uncomfortable for LIV's Saudi Arabian backers, who faced the prospect of being interrogated under oath during the discovery process.
The PGA Tour were also looking at huge costs to finance a string of $20m (£16.1m) tournaments introduced to counter their new opposition and had already dipped into their reserves.
For both sides there was a significant peace dividend in a sport that could ill afford to be split in the first place. It is an extraordinary climbdown for the PGA and DP World Tours to acknowledge LIV as being "positively transformative for golf".
Nevertheless, this deal appears to signal Saudi Arabia's massive wealth as a unifying force for the men's professional game. That is not likely to sit easily with critics who have regarded the PIF's involvement with LIV as nothing more than sportswashing for a kingdom whose human rights record is often questioned.
How this will transform the game remains to be seen, but all sides will be happy the threat of legal action has gone away. LIV players also now have a pathway back into a more unified game.