"Did it go in? Did it really?"
A perfect tee shot dropped from the sky on the 15th hole and plunged flush into the cup – the only hole-in-one of the 2023 US PGA Championship.
No wonder 46-year-old PGA club professional Michael Block could barely believe his eyes in what had already been a fairytale week.
Indeed, he needed playing partner Rory McIlroy to confirm his tee shot had gone straight in.
"I thought to myself, 'Why is Rory hugging me? He wouldn't hug me if it just went close!'" Block said afterwards.
The two shared a warm embrace at the end of a raucously-supported round, before Block did what we all would do – and asked a friend to "get a picture of me and Rory".
"When it's your week, it's your week," said world number three McIlroy who finished seventh at two under par, just three shots better than Block, who is head professional at a public course in California where he charges $150 for 60-minute lessons..
"It was an amazing golf shot and a fitting way to cap off his championship."
It has been an extraordinary tournament for Block whose twinkling smile and barely believable golf has captured hearts in New York state and around the world.
Level-par rounds of 70, 70 and 70, followed by a 71 on Sunday made a mockery of the brutish Oak Hill East Course that had seasoned major winners scrambling.
Indeed, his worst round came when the course was at its tamest – but his one-over-par round holds no shame.
His slam-dunk hole-in-one was the first by a PGA club professional at this tournament since 1996 – and it landed so plumb the cup had to be repaired before play could continue.
"I have never made a hole-in-one in a tournament and to make it then was probably the most surreal moment I will have in my life," he said.
"I'm living a dream – I just played with Justin Rose on a Saturday at a major and Rory McIlroy on a Sunday at a major. I'm not sure how it gets any bigger than that.
"I'm like the new John Daly, but I don't have a mullet, and I'm not quite as big as him yet.
"I'm just a club professional, right? I work. I have fun. I have a great wife. I have great friends. I live the normal life. I love being at home. I love sitting in my backyard. My best friend in the world is my dog. I can't wait to see him. I miss him so much it's ridiculous, my little black lab."
'A breath of fresh air'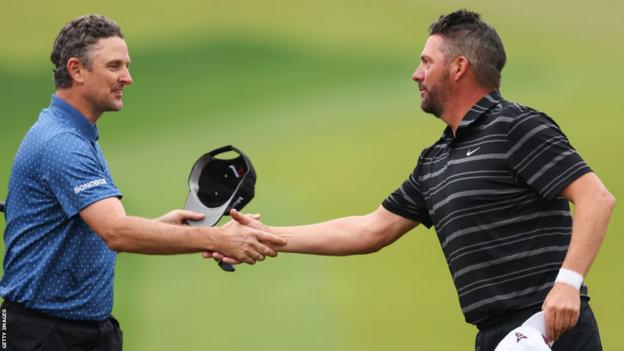 Block has the words 'Why not?' written on his golf balls and that easy-going spirit has shone through his play.
His exploits on the first two days earned him a pairing with 2013 US Open champion Justin Rose in round three on Saturday – a marquee partner he admitted left him starstruck.
"I've been watching Rosey for years," Block said. "At the start I couldn't look at him because if I did, I would have lost my mind."
With the crowds cheering Block's every shot, Rose admitted even he was caught up in the emotion.
"I was along for the ride," said Rose. "The crowd love [Block] and he was vibing off it.
"He's a great player – so carefree and a breath of fresh air."
By finishing joint 15th, Block takes home $288,000 (£231,000) and guarantees himself a place at next year's championship at Valhalla, Kentucky.
That's equivalent to 1,920 lessons at the $150 an hour he charges at his club.
For someone who has played this tournament four times without making the cut, it is an outstanding achievement.
"I literally had no idea," he said. "The money will be fun and great to have for my family but I didn't do it for that.
"I never thought about what I could make. I just wanted to do it for the crowd."
He also explained those spectators helped him when in thick rough behind the 18th green.
A failure to get up and down would have cost him that spot at next year's tournament.
"I did not look at the leaderboard all day," he said. "I didn't want to.
"I was in a brutal spot [on the 18th] with no green to work with but if I'd thought about it, I doubt I would have made it."
As it was, he gouged out a terrific chip to nine feet and then watched his putt topple into the hole after almost stopping on the rim.
"I'm so pleased I can open up a place for another PGA professional to play in this tournament," he said after learning he would automatically get an invite to 2024's championship.
And on the raucous scenes at his Arroyo Trabuco Golf Club after his ace?
"I've never seen so many in that bar in my life," he said. "It's going to be pretty special going back to them."
He was expecting to fly back to California on Monday but in his post-round news conference, he revealed he would be playing next week's PGA Tour event.
"I just got a call from Colonial, and I'm in next week as the last sponsor's exemption, which is really even more mind-boggling now," he said.
"So I'm readjusting flights to head to Dallas and Fort Worth. I'm looking forward to that, to say the least."
'A moment of pure romance'
"A moment of raw emotion for Michael Block," said the BBC's golf correspondent Iain Carter while commentating on the hole-in-one.
"At a time when golf is beset by all sorts of schisms and there is so much money at play, it reminds you that this maddening game still has moments of pure romance – that is one of them."
The 2002 US PGA champion Rich Beem said on Sky Sports: "How in the world did he make this happen at the age of 46?
"Everything he did out there was absolutely extraordinary – what a great story, what a great round of golf, what a great week. The stuff dreams are made of."