"I had a kid, no income at all – then I was asked by a friend if I can caddy. And that's how I started."
Tournament-winning caddy, Kenya's Virginia Karemi Njeri, has turned her family's life around caddying for golf professionals and coaching amateurs for the past eight years.
In 2017, Njeri caddied for the Kenya Open winner, Aaron Rai and even at the most recent event she was one of only three women among nearly 50 Kenyan caddies.
The 35-year-old had only been back in her native home for two years at the time of Rai's victory.
Prior to that moment, life was catching up with her.
"I was desperate for a job," Njeri told BBC Sport Africa.
"When I came back to Kenya, there was nothing to do. I'd come from Lebanon where I worked as a house help."
Her sister was already a caddy at Muthaiga Golf Club – one of Kenya's most prestigious – and a member recommended Njeri, who is now a mother of three, for a job interview.
She impressed and a senior member helped her understand golf and the golf course.
It took many hours, however, waiting at the Muthaiga club house, to get going and to get a bag but Njeri was patient and persistent.
"When I came to the golf course, I was bored," Njeri said. "You sit there for hours, don't have a client and then, when you walk on the golf course, you're like, 'now, I like golf'.
"I was coming to Muthaiga just hoping to get a job or a client. If you get one you're happy. If you don't get one, you're unlucky for that day – you try the next day.
"You have to scramble for a living being a new person in a workplace. You don't know who is playing, who is not playing. The ones who did know that – they ran to get the golf bag.
"So it takes a long time before you get someone to work for."
The other drawback was golfers doubting Njeri as a caddy due to a visual preconception that took time for her to overcome.
"It's quite difficult when you go to someone and ask, 'do you need a caddy ?' And a man replies, 'do you really know anything about golf?'", said Njeri.
"It's also hard to get a golf bag – to get someone who will trust you with his kit.
"It's mostly quite difficult for ladies. It's a tiring job and most ladies work for quite a short time. Then they leave."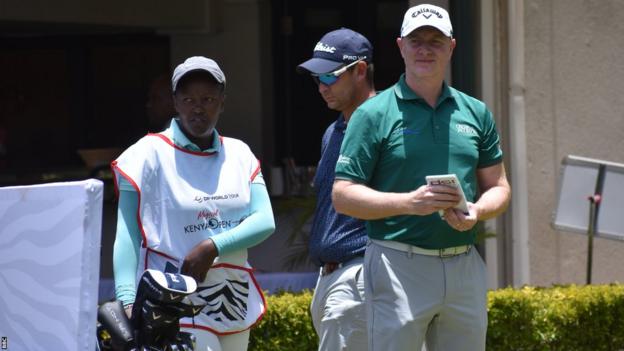 Eight years on from her hardest times, Virginia is still on the fairways and greens with the men as a full-time caddy, carrying a golf bag, which weighs between 20 to 25 kgs.
"It's heavy but you need your daily bread. So you have to sacrifice yourself. It's a good job, but still it's a tiring job.
"Caddying pays. It has helped me in a lot of things. Financially I use it to support my family, my mum, my kids, and everything I do I get the money from the caddying activity."
On a normal day, she can have two or three clients, depending on their schedule.
However, during the Kenya Open – a European Tour event – she works with only one professional golfer and has become a role-model in her country.
"As she worked and progressed, she managed to work in the Kenya Open golf tournament held at Muthaiga in 2017 and she was with the winner Mr Aaron Rai from England," Peter Mwangi Mbatia, the coordinator at Kenya National Caddies Association told BBC Sport Africa.
After caddying for Rai, Virginia was only one of two caddies selected for job training in South Africa. And she uses that training to instruct others who are interested in golf.
Breaking barriers
Full time caddying for women is still a developing concept in the male dominated world of golf.
Kenya is, however, making headway on the female caddying front. There are 2,000 female caddies working in various golf courses at club level and all golf clubs bar one have females caddies.
Female caddying in Kenya started in 2007 at Leisure Lodge Golf Club and Great Rift Valley Lodge.
"The boards of these clubs found it necessary to absorb ladies to be trained as golfers to replace the old Kenyan ladies team. Many of the other clubs followed suit and the ladies came in handy when they stayed to work as caddies," said Mbatia.
He added the Caddies Association has no programmes tailored towards the recruitment of female caddies. They rely on replacements at clubs if more caddies are needed.
Besides carrying a player's bag, a caddy gives the player advice and moral support. Simply put – a caddie is more than a bag carrier. He or she must know the basics of golf, according to Njeri.
"My role is to get the golf bag, help him in anything he wants to know on the course – maybe distance, maybe the fall of the green, maybe the wind.
"There are a lot of things – factors that make someone get that bag. You just have to have the idea of everything that pertains to golf," Njeri said.
The benefits of being a caddy transcends the financial reward for Njeri though.
It has been a pathway to a new life and a new found confidence.
"It was difficult for me to interact with people before but, due to caddying, I can interact with different people in different positions," she added.
"Being on the golf course is good, I feel relaxed. It's a good office.
"Being on the golf course is the best thing."