The beauty of golf is that every round is different. Even when you play your home course five straight times in a matter of two weeks, the grass might be soggier, the greens may be slower, and the weather might not be as perfect as it was the day before.
This is where preparation comes into play, because there are certain controllables and uncontrollables that you need to understand in order to shoot a low round.
This is what GOLF Top 100 Teacher Michael Hunt goes on to explain in the video below. The key? It's all about having the right mindset.
Most golfers have probably played a round where the anticipated forecast didn't go quite as planned. Instead of clouds with a small chance of rain, it turned into a near-monsoon, leaving you and your playing partners with another factor to adjust to.
While it's hard to adapt on the fly, Hunt says every player must learn to accept the uncontrollables in golf.
"Uncontrollables are the weather — it could be windy, it can be raining, it could be hot or cold," says Hunt. "The conditions on the golf course — the greens could be super fast or they could be slow … these are all things that you can't control."
This is where preparation plays a big part. Hunt says with the proper mindset, a golfer can block out the situations that could negatively impact their scorecard.
"If you know the conditions are going to be tough and there's going to be a lot of wind, you should practice hitting wind shots. If it's going to be raining, you should practice in a rain jacket and rain gloves."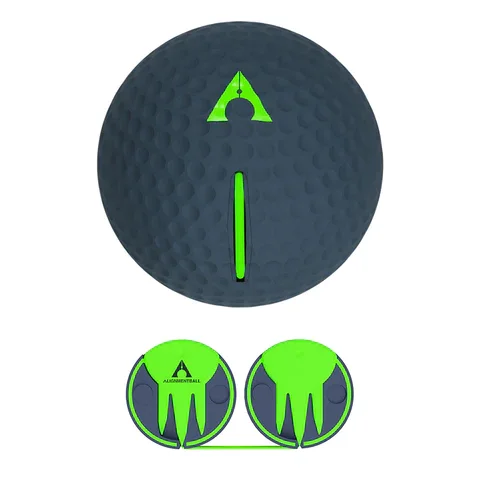 Alignment Ball
SALE – $39.99 (was $49.99)
Close to 20 feet of retractable cable! The Alignment Ball will help you work on start line easily and quickly on the putting green. Built in spokes make setup easy and efficient.
In addition to uncontrollable weather, Hunt reminds players that practice prior to teeing off is a key to success — which will help build confidence for other uncontrollables like green speeds.
"What you can do is how you approach [each round], and how you prepare for it," he says. "If the greens are fast, you've got to prepare. Get [to the course] early and practice on fast greens. Conversely, if they're slow, you've got to practice and be able to control your speed."
By following Hunt's advice, you'll be able to overcome the obstacles that are uncontrollable, all while channeling the controllable factors — like your approach to each shot, your pre-shot routines, and your composure to handle anything that may typically rattle you or other players.
"You've got to have a mental mindset that you're going into that [says], 'you're going to control what you can, and accept what you can't.'"