Mike Jones is an amateur golfer with a scratch handicap whose dream, aged 57, is to qualify for the Senior Open Championship.
"I am a golfer," he says, introducing himself, "who happens to have a disability."
Jones' outlook is a remarkable one. He lost his left leg after a road accident on Halloween 2015.
There were some "brutally dark times" during six weeks in hospital, until a conversation with another patient transformed Jones' mindset.
Eight years on, he has not looked back.
"I look at my accident and think it's the best thing that happened to me," Jones says.
"It's a crazy, crazy statement, but it's so true.
"Obviously it would be great if I had my leg again. But if I'd had the accident and still had my leg, I don't know whether it would have changed the way I perceive things or approach things.
"This totally changed my perception on what's important, what we need to move forward and how to be positive."
Jones, from Pontypool, used to be an electrical engineer.
He was on the daily commute when he was knocked off his motorbike.
"It was a very low speed accident but it crushed my left leg below the knee – every bone was broken," Jones says.
"The biggest injury, the life-threatening injury, was my thigh hit through the back of my pelvis. It snapped my pelvis in half and broke the head off my femur. I nearly bled to death on the side of the road – the paramedics saved my life."
Jones, who was aged 50 and had a son at university, remembers lying in his hospital bed wondering "what I am going to do for the rest of my life".
He was in tears when a double amputee who had suffered with diabetes "wheeled over and said 'Mike, we need to have a chat'".
"He said you have two choices, you can either sit in bed, feel sorry for yourself and go on that downward spiral, or you decide to take your recovery head on and do something about it," Jones adds.
"I can't thank the guy enough. The next morning my wife came and said 'what's happened to you?'. Everything was let's push on, do my recovery and get out of here."
Jones set himself a target of being home for Christmas – and hit it.
By the following spring he had a prosthetic leg and, having watched disability golf videos on the internet while in hospital, Jones' first stop when he was able to walk was the driving range.
"I hit them all right and it just developed from there," he says.
A better golfer now than ever
Jones had taken up golf in his late twenties, very quickly getting his handicap down to two.
These days he plays off plus 0.3.
"I am a lower handicap than I was when I had two legs," he says with a smile. "It's just learning to adapt your game and playing to your strengths."
Jones has travelled across Europe playing EDGA – formerly known as the European Disabled Golf Association – events, while he spent a couple of years playing as an amateur alongside golfing stars on the Legends Tour.
"Jean van de Velde was watching me drive the ball on the range," Jones explains. "He came over and said 'if you change this or think this way, I'm sure you could hit it better'. Within two swings I was thinking 'this is incredible'.
"Michael Campbell gave me a short-game lesson. You have to pinch yourself sometimes and think 'is this really happening?'. It wouldn't have happened if it wasn't for disabled golf."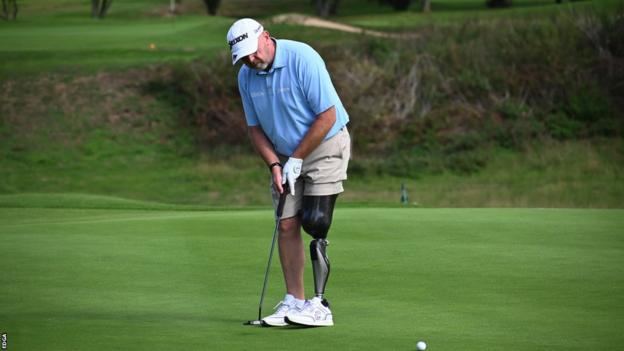 Jones now works in the sport, organising golf days, and gives motivational talks about his experiences following the accident.
His home course is Monmouthshire Golf Club, where the former Wales rugby captain Scott Quinnell is a regular playing partner.
"Scott has put his body on the line for his country on the rugby field," Jones says.
"He always says 'it's all right for you, you have only got one bad knee, I have got two'."
A big week at Woburn
This is a big week for Jones. He is in Woburn for the inaugural G4D Open, a landmark event being staged by the R&A in partnership with the DP World Tour with the support of EDGA.
The championship, which runs from 10-12 May, will feature many of the world's best golfers – male and female – with disabilities and will be one of the most inclusive ever staged.
"We cater for everyone – different handicap ranges, a huge range of disabilities," says Jones, the players' representative on the EDGA tour.
"We have paralysed golfers who play out of a specially adapted cart, players with cerebral palsy, players who are short in stature, arm and leg amputees, neurological disabilities as well.
"We have nine sports classes at this Open, so everyone has an opportunity to compete on a level playing field."
Jones will be joined in the Woburn field by another Welsh player, Dylan Baines, who he encouraged to play golf after they met while having treatment at the same clinic.
Baines had been told he would not walk again after a road accident, but won what was just his third EDGA event last autumn.
"I was so proud of him and pleased for him," Jones says.
So what chance a victory for Jones this week? He is optimistic thanks to some decent form, which also offers hope for Senior Open Championship qualifying later this year.
The likes of Bernhard Langer, Darren Clarke and Padraig Harrington are due in Wales when the tournament takes place at Royal Porthcawl in July – and Jones aims to join them by coming through a qualifying event ahead of the tournament.
"To compete against the legends properly – that would be a dream come true," he says.