CHARLOTTE, North Carolina — Rory McIlroy knows what you're thinking: He doesn't need four TaylorMade lob wedges to tackle Quail Hollow Club. But there he was on Tuesday morning with four 60s in the bag during a morning practice session.
Phil Mickelson and Dustin Johnson found the winner's circle with two lob wedges — 60 and 64 degrees, to be exact — over the course of their careers. But four lob wedges?! Four is pure insanity.
It's easy to look at McIlroy's short-game setup and wonder what the heck he's doing. But it's equally important to remember it's Tuesday at the Wells Fargo Championship, which means McIlroy can play with a full bag of lob wedges and it wouldn't matter. Come Thursday, he'll select one TaylorMade MG3 lob wedge from the bunch and see how it performs.
Only this isn't just any TaylorMade lob wedge.
As we've discussed plenty of times in this space, different wedge grinds can benefit different course conditions, so it's important to have options. In McIlroy's case, he's been on the hunt for the best lobber (and grind) for his game since the end of last year when he started testing different wedges from his past in an attempt to come up with a list of likes and dislikes.
The goal behind the feedback was simple: Provide TaylorMade designers with a blueprint for a future grind.
"[I]t's probably like 7 to 8 months [since I started testing different wedges], because I started messing around with some of my Nike wedges at the end of last year," said McIlroy. "There was some stuff I liked about them. When there's so many variables going on, you have to try and take some variables out to see what you need to do."
All of our market picks are independently selected and curated by the editorial team.
If you buy a linked product,
GOLF.COM may earn a fee. Pricing may vary.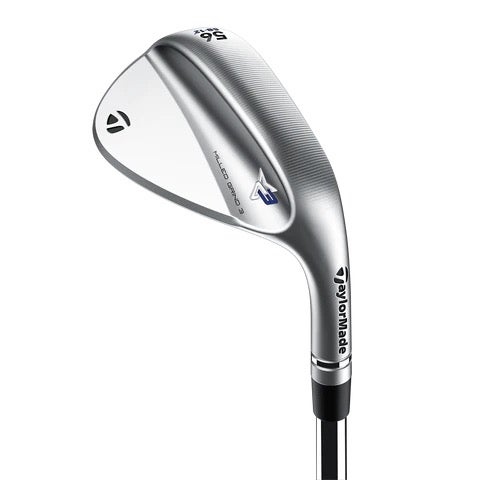 TaylorMade MG3
Check out Fairway Jockey's assortment of TaylorMade MG3 wedges.
What McIlroy kept picking up on during the testing sessions was how a wedge grind developed by legendary club maker Mike Taylor kept going through the turf.
"Depending on the conditions, I think that 'Mike Taylor grind' is good for all conditions," McIlroy said. "It's sort of one where, if you go to the British Open it could be good, and if you go somewhere like Oak Hill in a couple of weeks — where it could be soft — it could be good there too. It's quite a versatile one, where some of the other soles are more specialized for real tight stuff, or the wide one that's better for Bermuda. It's nice to have options."
McIlroy's wedges haven't generated nearly as much interest as the putter this season — it will once again be a topic of conversation this week as he returns to TaylorMade's Spider Tour Hydro Blast mallet — but that doesn't make the changes any less interesting. A part of his game that's gone missing at times, McIlroy added two Titleist wedges (SM9 54-10S and WedgeWorks 58.06K) to the bag at the beginning of the year in an attempt to tighten up his short game. He went on to win that week in Dubai.
While the wedges seemed to work for a brief period of time, McIlroy kept testing behind the scenes and offering more feedback to TaylorMade's team. After months of development and at-home testing — including post-Masters — McIlroy confirmed he's leaning toward using an "RM grind" he co-developed with TaylorMade at Quail Hollow.
"They seem to be performing really nicely," McIlroy said. "Sort of a combination of things that I've had previously, like a little bit of stuff from the Nike wedge, a little bit of stuff from the Vokey wedges, just sort of trying to blend them all together into the components that I like between the two, and coming up with something that's a little bit of a blend of both, which I think [TaylorMade's] done really well.
"That sole I'm using – what I'm probably going to use this week – is a sole that I've used quite a lot over my career. It's like that dual-sole M grind. Like all of my Nike stuff was sort of that sole as well. It's a sole I'm really familiar with, even into the TaylorMade days, that's what I've primarily used. Obviously, I've messed around with like a [Titleist] K grind and a T grind this year, but going back to what I know and what I've chipped well with, and performed well with. They've stamped an RM because it's my certain head shapes, certain sole, certain leading edge, it's sort of the stuff we've worked on together to get to a good place, and I think we have."
As for the four 60-degree lob wedges in the bag, they all have slight variations in grind due to the different bounces. So depending on the course conditions this week and beyond, McIlroy has one to match the turf. It's a nice thing to have for one of the best players on the planet. (It should be noted McIlroy also had a 54-degree "RM" MG3 gap wedge in the bag as well, so the specific grind extends beyond the lob wedge.)
More importantly, McIlroy and TaylorMade appear to have found something that has the potential to stick. With the Wells Fargo Championship and PGA Championship on tap, the four-time major winner will find out soon enough if the work leads to success on the course.
"We've put our heads together, and I think got to a really good place," he said.
Want to overhaul your bag for 2023? Find a fitting location near you at True Spec Golf.