Galvin Green has unveiled a new G-FORCE capsule collection of apparel in ultra-modern patterns inspired by the force of the waves that golfers often witness when playing close to the sea on links courses.

The limited-edition range features distinctive wavy designs and seascape colourways applied to a windproof and water-resistant jacket, a warm crew-neck sweater, six stylish polo shirts and a matching baseball cap. Many of the garments feature a prominent 'GG' logo in a contemporary style intended to make a bold impact on or off the golf course.
Building on the positive reaction to its Cool Collection introduced six months ago, Galvin Green has added the all-new Luciano Interface-1 jacket and Dillon Insula sweater to the latest selection of garments for golfers looking for added protection from the elements. The introduction of the Mathis and Matteo Ventil8 Plus shirt styles and a SCORPIO cap complete the collection.

The windproof and water-resistant Luciano jacket in Navy/White offers top versatility and an individual look. Crafted from Interface-1 stretch fabric, it features a drawstring at the hem and elasticated cuffs to deliver comfort and optimal freedom of movement during the swing, plus two front pockets. The navy front and back matched with the contrasting sleeves in lighter shades of blue deliver a super stylish modern look.

For cooler days, the crew-neck Dillon sweater delivers incredible warmth and a soft, stretchy feel to offer ultimate comfort and breathability. Crafted using responsibly sourced Insula fabric crafted from recycled fabric, it features the prominent brand logo surrounded by stripes in a pattern that is reminiscent of crashing waves. The contrasting Navy sleeves ensure the garment delivers a truly distinctive appearance.

The Mathis shirt in Ventil8 Plus fabric draws the eye to the bold logo at the centre of the garment, which is complimented by a jagged lined pattern that surrounds it. The design features a contrasting collar and back in a bold colourway to deliver a super modern appearance out on the golf course. The shirt is available in Navy/White, Cool Grey/White and Indigo Bunting/Navy.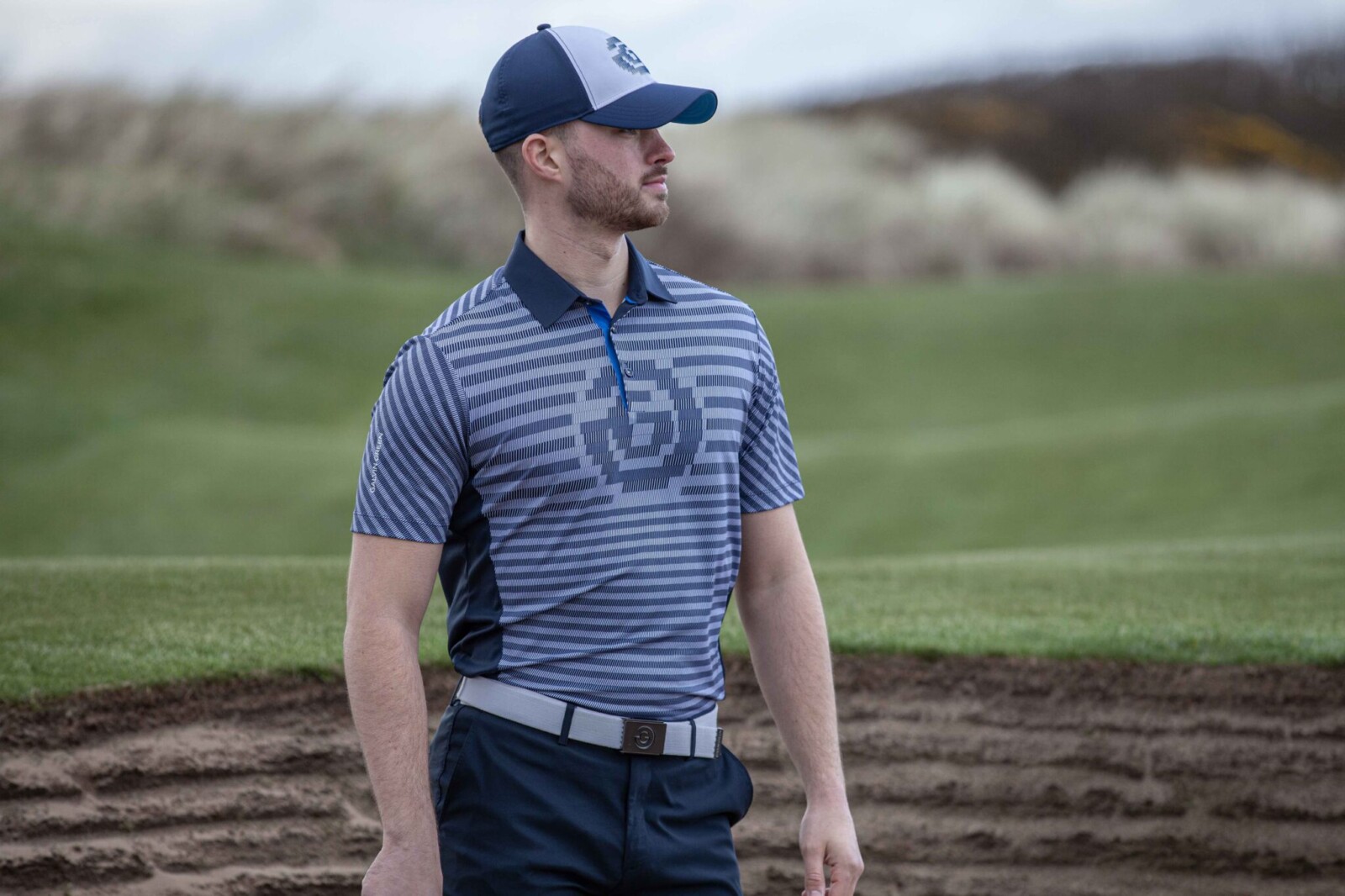 Offering an equally striking look, the contemporary Matteo shirt sees the 'G' logo take centre stage across the front and back of the garment to help golfers stand out for all the right reasons. It is also available in the Navy/White and Indigo Bunting/Navy colourways, plus Cool Grey/White/Navy.
Both shirts in the collection provide excellent moisture-transportation properties and breathability to keep the body dry, while offering UV 20+ protection in warmer temperatures. Easy to maintain, the shirts also dry quickly and without the need to iron.
The Scorpio baseball cap, which features an adjustable width, is designed with Ventil8 Plus moisture-wicking fabric that dries quickly.
The G-FORCE capsule is available from leading stockists and can be viewed at www.galvingreen.com.