The size of golf bags has grown alongside that of driver heads in recent years, with many players lumbering around Tour-level cart bags on power trolleys that could probably provide a decent Airbnb providing you had access to some clever wide-angled photography. So it might come as something of a renegade move to launch a golf club carrying device that seeks to slim down how much kit you are able to transport around a golf course, but that is the thinking behind the Grasshopper.
Capable of holding up to seven clubs, the Grasshopper looks like and is operated like a ruck sack, with the whole thing designed to be carried on your back courtesy of two padded shoulder straps. The outer shell is made from a water-resistant and extremely durable ballistic nylon, while the interior features padded slots at the bottom for the clubheads, and a horizontal row of plastic receptacles at the top, which the club shafts pop in and out of. This neat arrangement keeps the clubs firmly in place, so they don't knock against one another while you're walking.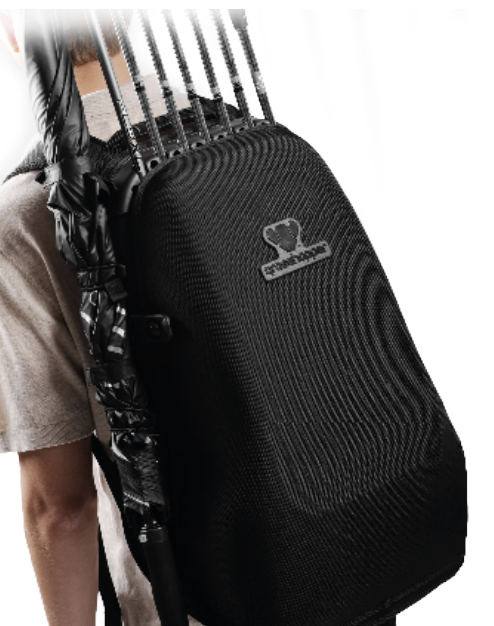 There's a mesh interior pocket for balls and tees, and a further zippered interior pocket for wallets and phones, and an exterior pocket on one side for a water bottle, plus a set of shock cords on the other side for carrying an umbrella.
The Grasshopper also features a kickstand which stays folded into the padded back panels of the backpack when not needed, but it automatically flips out to prop the pack up when it's placed on the ground. There's also a rain cover, which can be fastened over the whole pack on wet days.
All told, it's a really clever piece of kit that could well come into its own if you're playing a short course where a full set isn't required, or perhaps heading to the range or to a short game academy to work on your wedge play. The very nature of its design means that it's going to appeal to fit, younger types, and maybe kids just starting out in the game who only carry a half-set, but it's also setting itself up against a host of brands that offer slimline bags that are designed to be slung over the shoulder with quick access to half-a-dozen clubs.
With its stylish looks and thoughtful design, The Grasshopper is well worth considering if you're the kind of golfer who likes to stand out from the crowd.
RRP: £255. To find out more, visit www.grasshopperbags.com.