We've had Drive to Survive for F1, Break Point for tennis, and this week another new behind the scenes sport documentary series, Full Swing, delves into the "civil war" in golf created by the Saudi Arabian-backed breakaway competition, LIV Golf.
The eight-part series lands on Netflix on Wednesday, 15 February. Made by the team behind Drive to Survive, it closely follows a number of high-profile players during last season's PGA Tour.
What perhaps no one banked on when cameras started rolling, however, were the massive fractures that were about to occur within the landscape of the sport.
The announcement last spring of a new competition, the LIV Golf series, proved highly controversial. The fact that the start-up is backed to the tune of £1.6bn by the Saudi Arabian Public Investment Fund led to some claims of sportswashing, while the fledgling series itself posed an existential threat to the status quo of golf.
Players like Dustin Johnson, Ian Poulter and Brooks Koepka were sanctioned by the PGA after joining the new tournament.
Producer, Paul Martin told BBC Sport: "For us, we had a group of characters who were all on the PGA Tour when we started the show. By the time we finished the show, it was like a 50/50 split. The show that we thought we were making, we had to pivot and suddenly we're making a show about a world where there was a civil war going on."
"You put all that in the mix with the competitive pressure of a major championship and it combusts!" added executive producer, Chadd Mumm.
American golfer Tony Finau told BBC Sport: "All I know is that Netflix couldn't have picked a better year to follow the PGA Tour."
Alongside all of the drama there are also lots of private jets and lavish houses with huge pools.
On the other hand, there's a fair bit of angst about the pressures to keep succeeding.
Here are just a few takeaways from the explosive series.
'Playing less, making more money' – golfers on joining LIV Tour
LIV is based on a three-day 54-hole strokeplay format. The prize fund for each leg of the series is $25m. That meant, at the time of recording, each leg was more lucrative than the richest tournament on the PGA Tour.
After defecting from the PGA Tour, two-time major winner Dustin Johnson went on to win the inaugural LIV Golf championship in October 2022, earning $18m (£16.2m) in prize money, on top of the reported $125m he got for joining the tour.
In episode five of full swing, he defends his decision to switch.
"For me, it was playing less, making more money – pretty simple," says the 38-year-old, who joined the PGA Tour in 2008 and won $74m on the circuit. "If someone offered anyone a job, doing the same thing they're already doing, but less time at the office and they're going to pay them more, I'm pretty sure you're going to take it. And something's wrong with you if you didn't."
Other players cite money and family reasons too.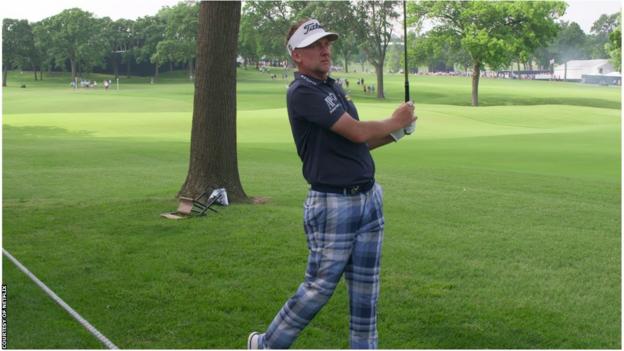 English golfer Ian Poulter talks in episode three about the potential LIV offers him to extend his career, saying: "The fact of there being guaranteed money at play is obviously an attraction."
During legs of LIV, even players who finish last take away $120,000.
According to the PGA Tour website, the 47-year-old has won around $28m (£23m).
"People ask all the time, 'don't you have enough already?' But that's all relative," he says. "I treat my golf as a job and I want to obviously maximise every bit of my potential over the coming years."
Journalist Brandel Chamblee counters: "Ian Poulter, he has given up everything. He's not going to be a Ryder Cup captain, he's not going to get the goodwill of the game of golf, he's not going to get the goodwill of the sponsors. It all goes away."
Finally, four-time major winner, Brooks Koepka says, "It's tough not to take care of your family man. To know that your kids' kids and my grandkids' grandkids are taken care of. I'm happy with the decisions I've made."
'We've all just gotten a little soft' – McIlroy on LIV debate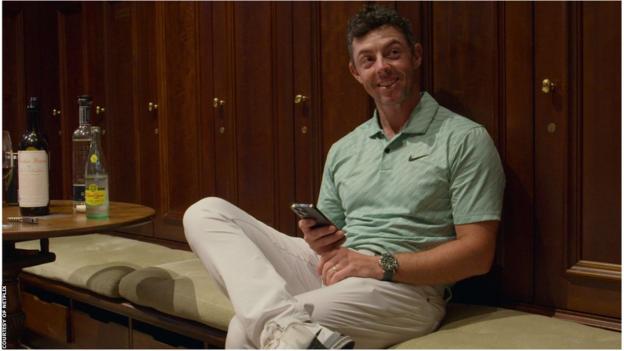 Perhaps the biggest critic of the LIV breakaway was Northern Ireland's world number two – and one of the sport's highest-profile players – Rory McIlroy.
During episode eight, we see him discussing his opinions on the new circuit and advising other players, including Australia's Cameron Smith – winner of The Open in 2022 – to think carefully before joining. Smith joined LIV six weeks after winning the 150th staging of golf's oldest major at its spiritual home in St Andrews.
In one scene, McIlroy sits down with PGA Tour chief tournaments and competition officer, Andy Pazder, in the aftermath of an announcement that any players joining LIV Golf will be banned from the PGA Tour.
Discussing reaction by other players, McIlroy says: "I say to these guys, no other athletes in the world get to choose when and where they play. We've all just gotten a little soft."
Finau learned to play golf in his dad's garage
We learn that world number 13 Finau has not come from a typical golf background. Growing up with six siblings in a poor neighbourhood in Salt Lake City, Utah, Finau – who is of Tongan and Samoan descent – learned to play in his dad's garage.
The 33-year-old explains how it came about in episode six.
"My brother randomly told my dad he wanted to play golf," he begins. "He didn't know anything about golf, he'd never played it before. With the budget we had, he knew he had to figure out a way that we could learn to play at home.
"His invention was, 'I'm going to put up a mattress in our garage and that's how my boys are going to learn to hit and we're going to go to the golf course to chip and putt, since it's free'."
'Cancer probably changed me for the better' – Dahmen's attitude to golf and life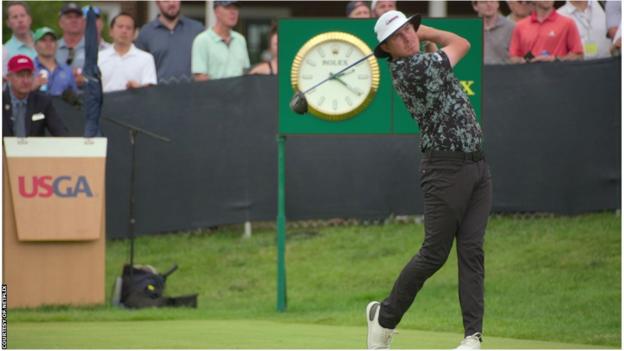 In the hyper-competitive, single-minded world of golf, Joel Dahmen seems different.
His wife, Lona Skutt, describes him in episode four as a 'goofball'. Fans may remember when the 35-year-old got in trouble for taking his shirt off on the 16th green at the WM Phoenix Open last February.
Dahmen is incredibly self-deprecating, declaring in one scene: "It's not like I don't try and I don't practice, but someone's got to be the 70th best golfer in the world – might as well be me. I am a middle of the road PGA Tour player."
Despite that, Skutt argues that her husband has an inner steeliness. His mother, Jolyn died from pancreatic cancer in 2005 and in 2011. Dahmen was diagnosed with testicular cancer.
"My mother's passing is still tough, but I think myself having cancer probably changed me for the better – not take life for granted, try your best, do all the right things," he says.
'I can show you 7000 shots' – Fitzpatrick is a stat nerd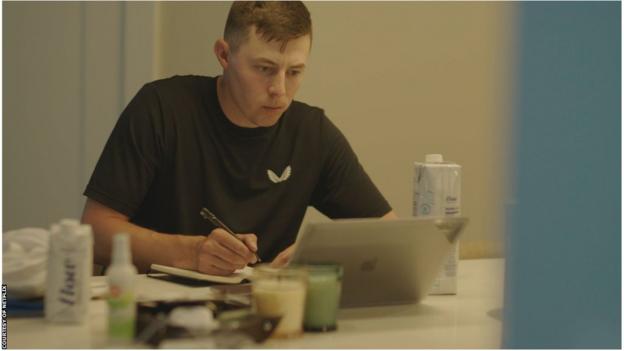 English golfer Matt Fitzpatrick won his first major in June 2022, when he beat world number one Scottie Scheffler and Will Zalatoris, to claim the US Open title at the Brookline Country Club.
However, the unassuming 28-year-old from Sheffield says in episode five that no one in his home town even recognises him.
One secret he reveals is the way he monitors all of his shots.
"Since I was young – probably 14, 15, I've always written down what shots I've hit, how far, what club. I can show you 7000 shots. I'm always, always pushing to be better and the analytics show me, in black and white, where I need to improve."
'I hope I beat him in every tournament for the rest of our lives'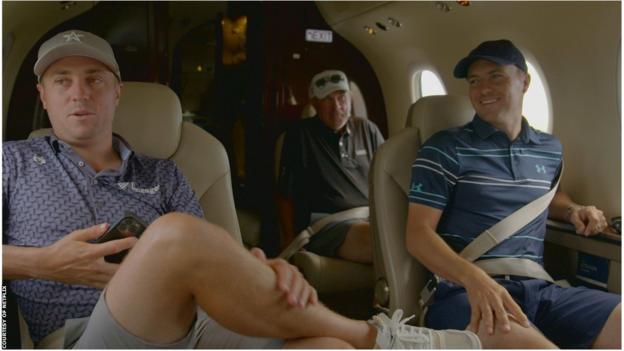 Jordan Spieth and Justin Thomas have been friends and sparring partners since they were 13.
In May 2022, Thomas won the US PGA Championship at Southern Hills, to claim his second major – one behind Spieth's tally of three.
Thomas admits in episode one that it's been difficult at times to watch Spieth's career surpass his own.
"I was very jealous of everything that Jordan did. I mean, you could go as far as to say angry, because it's like, it wasn't me," says Thomas, who later adds "he's one of my best friends but at the same time I hope that I beat him in every single tournament for the rest of our lives".
Following Thomas' victory at Southern Hills, Spieth comments: "As much as I want to beat him, when I'm already done and I can't, then he's the guy I'm rooting for. If anything, all it does is makes me want to blaze ahead even more."