TaylorMade has unveiled of its new line up of Spider putters for 2023, featuring the all-new Spider GTX and Spider GT Max models, both of which will be at retail in the Spring.
The GTX combines the best features of the Spider Tour and Spider X models, plus a a full array of colour options, while the GT Max introduces a new level of adjustability and performance to the Spider stable of putters.
SPIDER GTX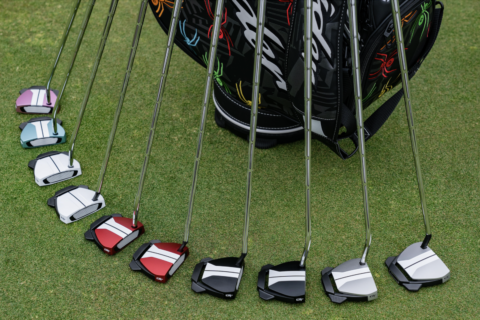 Offered in classic colours like white, silver and black to bold hues like red, ice blue and pink, there is a colour option to suit every player's style and preference with the new Spide GTX putter.
Key features include proven TaylorMade putter technologies such as True Path Alignment, which allows for easy and precise alignment to the target, and PureRoll² for a consistent end-over-end roll. It includes a deep centre of gravity created by a heavy 154g stability bar at the rear of the putter – which equates to 45% of the putter's total weight.
Due to the heavy concentration of mass at the rear of the club, the GTX ranks among the most forgiving Spider putters, with an MOI above 5300, ensuring maximum resistance to twisting and a stable clubface. Like all Spider features the GTX features a distinctive wing structure, while fluid lines and sharp angles blend seamlessly to create a visually striking frame that perfectly frames the golf ball at address.
The multi-material construction features a 100% CNC milled body made from 6106 aluminium, which allowed engineers to utilise an anodised PVD colouration process to deliver a premium look with improved durability in the form of scratch, chip and wear resistance.
Availability: Late Spring (precise date TBC) RRP: £349

SPIDER GT MAX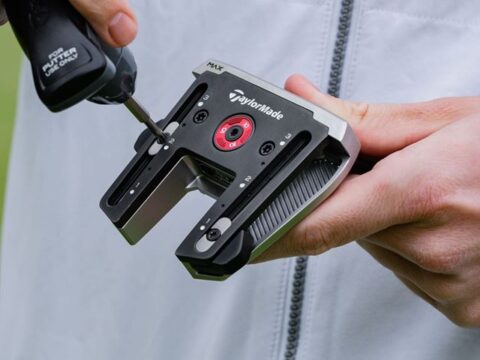 Spider GT Max features two 40g sliding tungsten weights that can be positioned to influence centre of gravity. toe hang and face rotation. This design allows users to adjust the centre of gravity to that of all preceding mallet-style Spiders, while simultaneously helping to minimise mis-hit tendencies for specific putting strokes.
For players who tend to miss putts to the left, placing the weights in Position 1 (farthest back) slows down the face rotation. For players who miss to the right, Position 3 (farthest forward) helps the face close faster. For players that don't have a consistent miss and are looking for versatility, Position 2 offers a neutral option. Exhaustive testing with a wide variety of golfers revealed that golfers who placed the weights forward had a more closed face angle at impact, and vice versa when the weights were in the back.
Bill Price, TaylorMade's Director of Product Creation, Putter & Wedge, said: "We encourage golfers to spend time observing their putting tendencies. By knowing where you often miss, you can set the weights on the Spider GT Max to counteract your tendencies and help you hit putts on target with greater consistency. Why adjust your putting motion when you can adjust your putter?"
Spider GT Max comes in a silver anodized finish with True Path technology and is offered in two hosel configurations – short slant and single bend – allowing golfers to choose offsets and toe hangs to suit their stroke.
Availability: Late Spring (precise date TBC) RRP: £379
For more information, visit taylormadegolf.eu